"Here's to my Friend"
To begin, I'd like to thank Mr. Molnar for spear-heading this initiative, inviting me to participate, and more importantly, summarizing a few things that have been reeling through my mind as of late (Thanks, Aaron).
My relationship with Mark began as a peripheral one; friend of a friend (or rather, roommate of my main drinking buddy at the time). Our initial interactions primarily consisted of Mark desparately trying to kick my inebriated posterior out of his house so he could get some much deserved peace & quiet. He was way too cool to be hanging out with the likes of me. But, I eventually began to grow on Mark (much like a fungus), and we soon became good friends.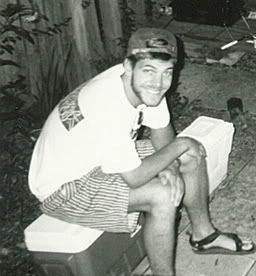 Seems like Mark was almost always hanging out at the Eastmoorland pad, back in the day. It was there that we delved into video production; the
"Johnny is Easy to Kill"
series,
"The Letter"
,
"Discount Psychics"
, and other camera fun to pass the time. Mark would always find ways to recruit and incorporate all our friends. He was ever the producer, director, camerman, script-writer, etc... Mark would always refer to me as
"the talent"
, even though I was never really deserving of the title.
Mark was already a seasoned performing musician when I was "still in my musical diapers". He was always ahead of the curve like that. Performing with
NBBB
and
HWM
with Mark in the drum seat was always a pleasure. He was such a
natural
musician, with a flow and vibe that was effortlessly cool.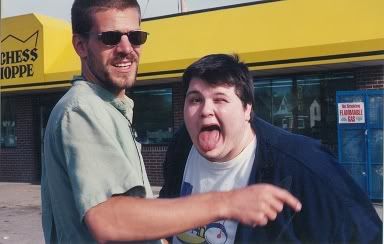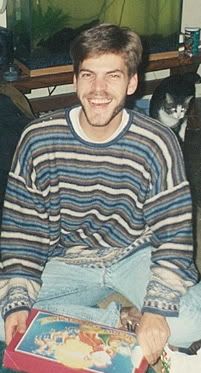 Mark's generosity was overwhelming. How many times did he go out of his way to lend me a hand? Too many to count.
I'd lost track of him over the past few years, but Mark was frequently on my mind. I wish I had made more of an effort to get in touch with him. Always thought we'd have more time.....
This is my favorite picture of Mark.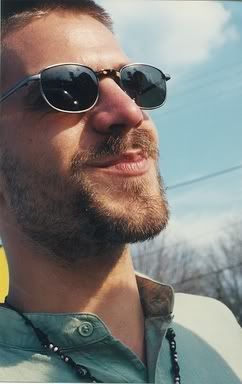 Miss ya, bruh.